As CMA course is gaining popularity among students, they are curious about the CMA course details, CMA course subjects, CMA course syllabus, CMA course exam dates and CMA course career prospects. CMA aspirants want to know how to become a Cost Accountant. So, in this article, we are providing all the important CMA course details.
Over time we have seen that people tend to confuse between CMA course details and terms like CMA, ICMAI, CWA, ICWA and ICWAI. So, to end your all confusion, Institute of Cost & Works Accountants of India (ICWAI) has changed its name into The Institute of Cost and Management Accountants of India (ICMAI). Also, CWA course has been renamed as CMA course. So there is no difference between ICWA and CMA, they are the same.
CMA course is a gateway to become a Cost & Management Accountant.
About CMA Institute
ICMAI is statutory professional accountancy body in India with the objects of promoting, regulating and developing the profession of Cost Accountancy. It is the only licensing cum regulating body of Cost & Management Accountancy profession in India. It recommends the Cost Accounting Standards to be followed by companies in India to which statutory maintenance of cost records are applicable.
ICMAI is the largest management accounting body in Asia and second largest management accounting body in the world.
In this globalized world, organizations require CMAs who have specialized knowledge of business strategy and value creation. CMAs are increasingly contributing towards the management of scarce resources like funds and land and help in risk analysis, developing Cost Control Mechanism, etc. thus helping the organization in the strategic decision-making process.
"Without cost accountancy, one works rather in a vague, undefined way without knowing where an industry exactly stands in but cases where there are Cost Accountants, correct assessment of its proper growth & working can easily be made." – Lal Bahadur Shastri (Former Prime Minister of India)
In a nutshell, CMAs not only help corporates in managing scarce resources but also help in making optimum utilisation of these resources so as to maximize the profitability of the corporate.
The headquarters of ICAI is situated in Kolkata and operates through its four regional councils located at Kolkata, Chennai, Delhi and Mumbai, 94 chapters in India and 78 chapters abroad. A chapter is nothing but a branch. Check the complete list of chapters below and save the address and phone number of your nearest chapter or chapter of your choice, as it will be required in the near future.
Complete Address list: CMA Chapters and Regional Office Address
In this article, you will get the CMA course details or How to Become Cost Accountant in India (CMA). Steps to Become CMA (Cost & Management Accountant). Where to Apply for CMA Course, When to Apply for CMA Course, Practical Training Details etc.
Now you can scroll down and check complete details regarding "CMA Course Details | How to Become Cost Accountant | ICMAI Course Details"
CMA Course Prospectus
Download CMA course prospectus (Syllabus 2016).
CMA course at a glance
Who conducts the CMA exam in India?
CMA exam in India is conducted by the Institute of Cost Accountants of India (ICAI). Earlier the course/Institute was called ICWA (Institute of Cost & Works Accountants of India). It is set up by an Act of parliament. The institute was established in 1944 and later in 1959, it became an official government body.
How many levels in CMA course?
There are 3 levels in the CMA course
Level 1 – Foundation (4 papers)
Level 2 – Intermediate (8 papers)
Level 3 – Final (8 papers)
CMA Course Examination
CMA Exams are held twice in the month of June and December. The Examination will be conducted in Offline, descriptive (Pen & Paper) mode only. Each paper will be of 100 marks and for 3 hours duration.
CMA Course Duration?
The course can be started after 12th or Graduation.
CMA course duration after 12th: 3-4 years (3 levels)
CMA course duration after B.Com or Graduation: 2.5-4 years (2 levels)
Above duration is not fixed. A candidate may take more attempts to clear the CMA exam and hence the duration of the CMA course can be more for that candidate.
15 months of practical training is mandatory for all CMA Intermediate passed students and it is assumed that the candidate prepares for the CMA Final exams during the training period and takes additional time of 6 months for the preparation.
How & when to get registered for the CMA course?
Registration to the course can be done online from here.
CMA Course Syllabus
There are a total of 20 papers in CMA course from foundation to final level. CMA course syllabus varies for each level.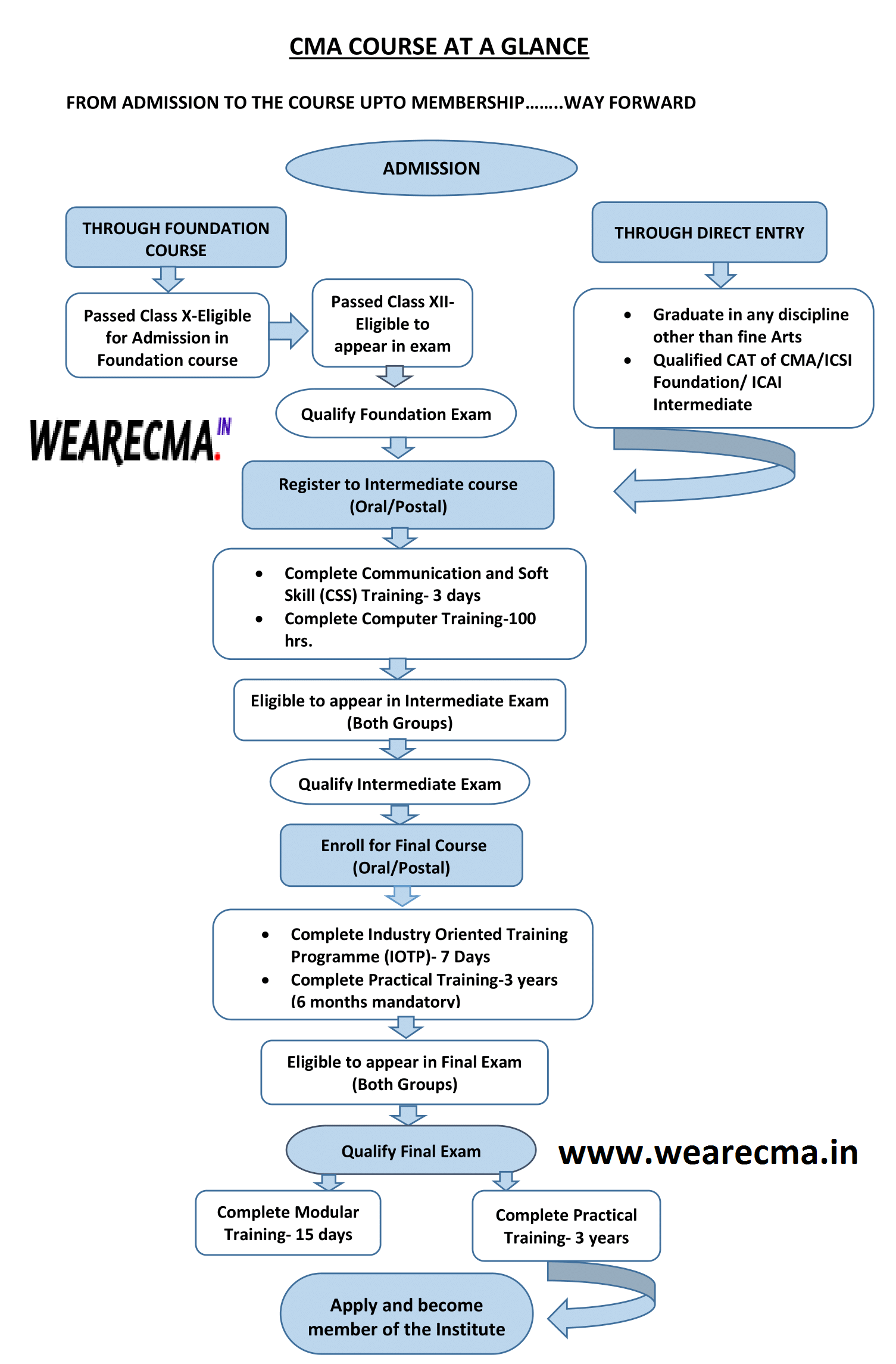 CMA Course Details – Important dates for students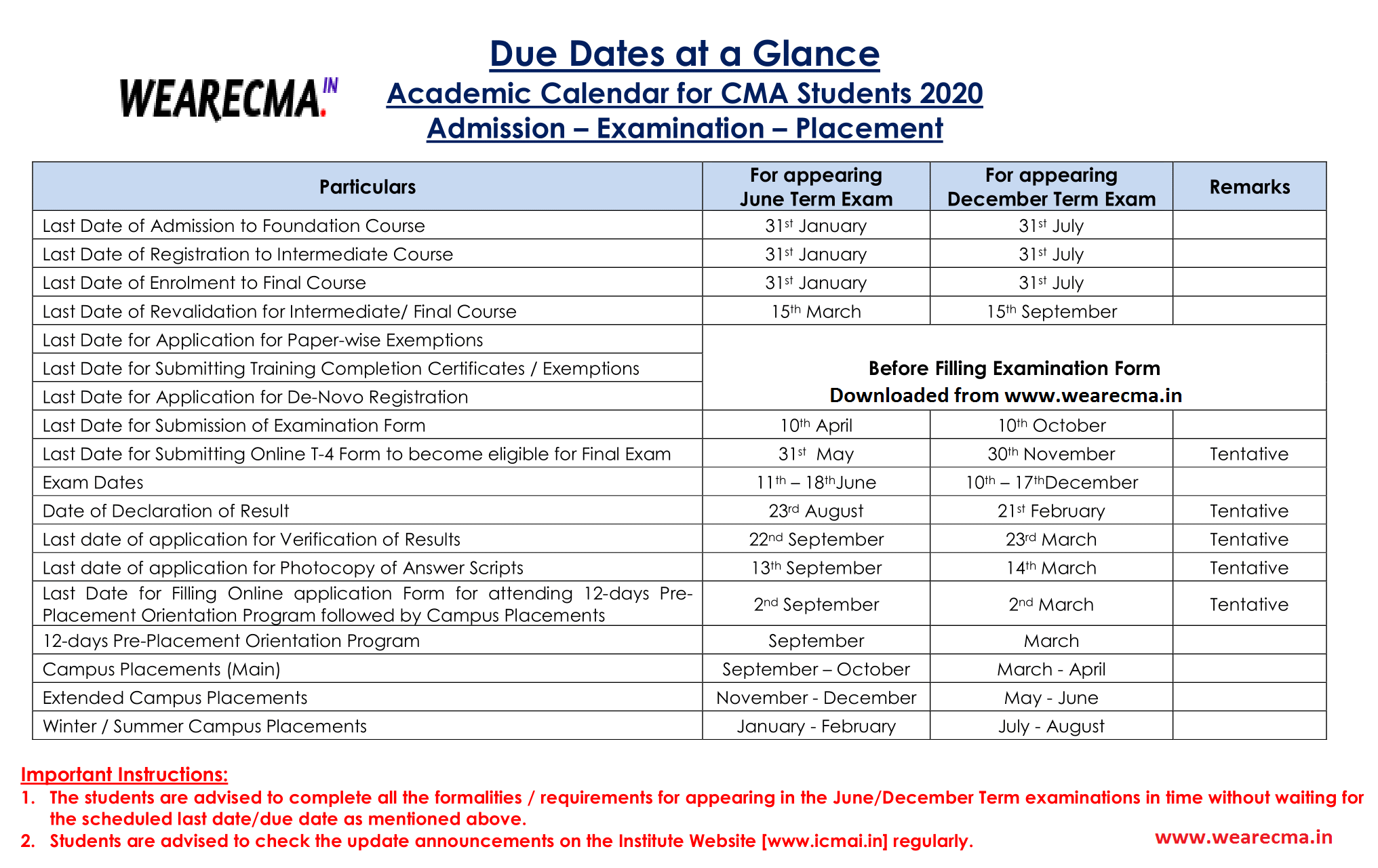 Please note the due date/last date scheduled for fulfilling the particular requirements for appearing in the CMA June and December term examination respectively.
Instructions:
The students are advised to complete the requirements for appearing in the June/December Term examination in time without waiting for the scheduled last date/due date.
Students are advised to check the update announcements on the website regularly.
CMA Course Details about Admission
Admission to foundation course for the ICAI course is open throughout the year. However, Students desirous to appear for June Term Examination should apply before 31st January of that year and for December Term Examination should apply before 31st July of that year.
You can apply for CMA Foundation course any time during the year. CMA foundation admission can be done online as well as offline. You can take online admission here. To take offline admission you will have to visit your chapter (branch). Check the complete address list: CMA Chapters and Regional Office Address
Eligibility criteria for the CMA course
As per the current scenario, the following are the eligibility criteria:
For CMA Foundation: XII Boards passed or appeared From Commerce, Science or Arts.
For CMA Intermediate: CMA Foundation cleared or CS Foundation cleared or CA Inter cleared or Graduation (with any %)
If you have passed the CMA Foundation exam then you are eligible for CMA Intermediate. If you have any graduate degree then you are exempted from ICMAI Foundation exams that means you can directly enter into CMA Intermediate.
CMA Oral Coaching vs Postal Coaching
While taking admission you will find two options,
Oral Coaching:
Students opting Oral Coaching mode can attend Oral coaching classes at Chapter/Regional Councils of the institute selected by them.
Students opting Oral Coaching need to collect Study Materials from concerned Regional Council / Chapter / CMA Support Centre after receipt intimation from HQ by SMS/email.
Postal Coaching:
Students opting Postal Coaching mode shall have to submit the answer of Postal test papers only.
All students shall submit their Postal Application form, duly filled in together with relevant documents and remittances to their respective Regional Councils / Chapters only.
That means you will not have to attend classes at the chapter and every communication will be direct with you and not via chapter.
CMA Course Stages/Levels:
The CMA course comprises three levels and 20 subjects.
CMA Foundation
CMA Intermediate
CMA Final
Watch the video below to understand the CMA course details (work, scope and levels etc.)
Read more about a career as a Cost Accountant here.
CMA Foundation Course
CMA Foundation Subjects (4 Papers)
This level has both subjective and objective style questions.
A student can enrol on a PROVISIONAL basis before appearing for XII boards exams by submitting the hall ticket and once the results are out, a student has to submit the mark sheet to the Institute.
CMA Intermediate Course
CMA Intermediate Subjects (8 Papers)
All the above papers are subjective/descriptive style, having about 25% – 28% objective questions.
CMA Intermediate Reference Books Best Collection
CMA Final Course
CMA Final Subjects (8 Papers)
This level has both subjective and objective style questions.
CMA Course Details on Practical Training
students for being eligible to make an application to appear in the final examination must complete at least 15 months of Practical Training in any one or more of the organization as specified by the institute.
Read complete details regarding practical training and exemption here.
Passing criteria in CMA exams (all 3 levels):
To pass CMA Exams (all levels) your aggregate marks must be 50% which means 200 out of 400 marks (per group) and you need 40% marks in each paper that is minimum 40 marks out of 100 marks in each paper.
However, you can take benefit of set-off only if you appear for both groups.
Set Off Rule: There is the requirement that a candidate should pass all subjects in one sitting then the set-off will be available.
For example, you get 190 marks in group 1 and 210 marks in group 2 and having more than 40 marks in individual subjects then set off of 10 marks will be available and accordingly, you will be declared clear in both the groups.
CMA course fees in India in rupees?
Click here for complete fee details.
CMA Course Details – FAQs
For what posts/designations are CMA hired?
"There are plenty of employment opportunities are available for the CMA qualified people. Once you have completed the CMA course, you can start up your career as a Cost Accountant". CMA degree holders are highly demanded in the government sector, private enterprises, development agencies, banking & finance sector, education and training sectors. With the advancement of the economy, demand for cost and management professionals are rising rapidly. Read more on a career as a Cost Accountant here.
CMAs are professionals who serve corporate & are best known for or hired for the post of a Business Analyst. Other posts for which CMAs are hired includes:
Cost Controller
Account Manager
Project Manager
Tax Consultant
CFO / MD / Chairman
Cost Auditor / Internal Auditor
Finance Director
Managing Director
Associate Professor
Cost Controller
Chief Auditor
Chief Accountant
Chief Internal Auditor
Financial Consultant
Financial Controller
What CMA do in the corporate world?
CMAs can perform a multidisciplinary role in an organisation such as
Managing the process for optimum utilisation of scarce resources
Managing employees effectively
Efficiently managing funds
Facilitating in strategic decision making
Implementing cost-effective business process
CMAs contribute in making legitimate profiles of the business
Helps in sustainability, growth and expansion of a business
Plan, study and collect data to determine the costs of business activities.
Analyze financial information and prepare reports accordingly.
To work with computer technology related to accounting.
To give advice to managerial staff about revenues and costs.
Implement cost accounting strategies to increase the company business.
To maintain a cost accounting system.
Some popular areas where CMA can find jobs are consultancy firms, developmental agencies, departments of company affairs, training & research organizations, service industry, stock exchanges, public utility sector and other regulatory bodies.
How much does a CMA earn?
In India, you can expect a starting salary between ₹4 to 6 lakh per annum. Your salaries will also depend upon your working job profile, sector and experience in this field. In abroad (USA), the average salary of a Cost Accountant is around $60k per annum.
CMA is a field which provides satisfaction in terms of position as well as salary for successful candidates.
"With good qualifications and experience, the pay packages offered to Cost Accountant are beyond the limits".
A Cost Accountant with no experience would earn less in his initial years but after 2-3 years he can earn as good as ₹80000-100000 per month or even more. It is all about practical knowledge, "the more you will have the more you will earn".